The Tadmarton Heath Winter Series
Four prestigious competitions you won't want to miss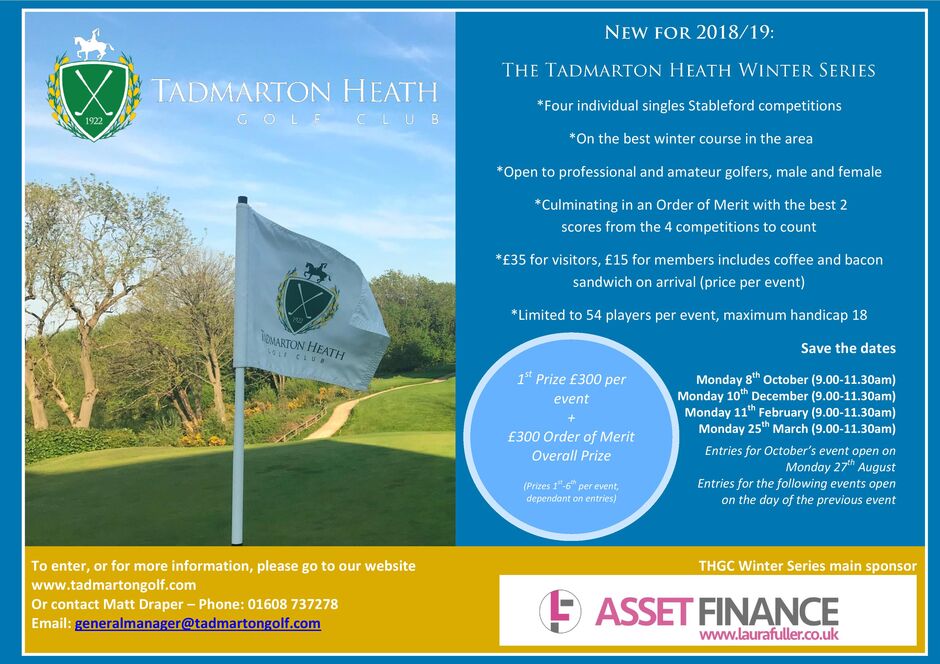 ​​​
You can enter the 2nd event, to be played on Monday 10th December now - click here
Congratulations to the winner of our first event, Richard Lyons, who became the first lucky winner of the jackpot £300 first prize. Prizes were paid out down to 6th place on what was a very competitive first event! For the full results, click here
PLEASE NOTE THE FOLLOWING BEFORE ENTERING
Following the summer's drought and the damaging effect it had on a number of our fairways, we have unfortunately had to introduce a number of restrictions in order for them to be worked on a give them the best chance of a full recovery. The restrictions include:
- We ask that all players carry their clubs if they can, all trolleys must be wheeled in the rough and can only be taken on to fairways when crossing
- Play from the fairways on the 12th, 13th, 14th, 15th and 17th holes is prohibited. Balls must be dropped in the semi rough on the nearest side to where your ball finished
- Other fairways with areas of significant damage will be marked as "GUR play prohibited". Drop zones will be clearly marked and available if your ball is in an area of GUR
As these restrictions are in place for the Winter Series event on 10th December, the competition will now be a non-qualifier. We will still run the competition if we have a minimum of 25 players and the first prize of £300 will be up for grabs to our lucky winner, as well as order of merit points.
For more information, please contact Matt Draper on 01608 737278, email generalmanager@tadmartongolf.com or fill in the form below: